Yoga Retreat in English: A Journey through the sacred map of Chakras. With Hot Springs & Sightseeing
Da Venerdì 16 marzo a Domenica 18 marzo 2018
Tuscania - Lazio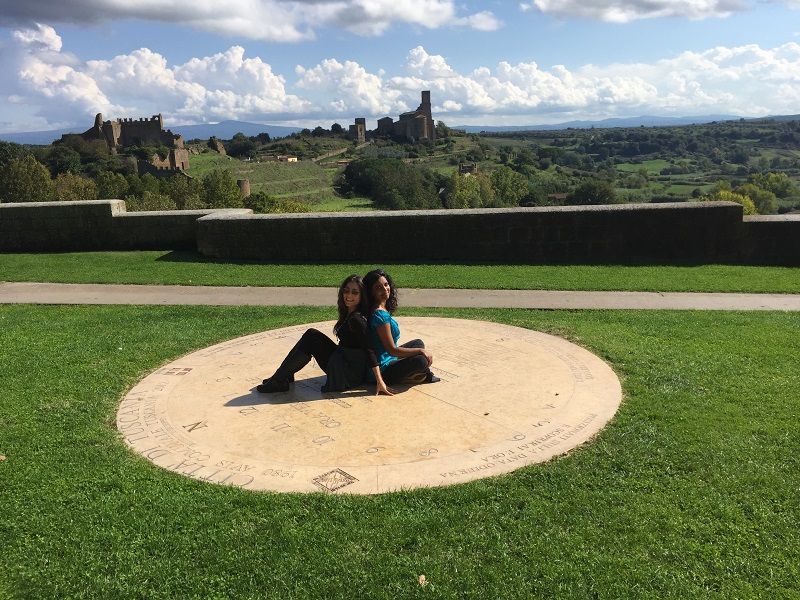 Join me for a nurturing and fun yoga retreat in the enchanting village of Tuscania, situated in the Lazio region of Italy, less than a two-hour drive away from Rome. The retreat takes place on the weekend of March 17-18, 2018 with participants arriving on Friday evening, March 16, to enjoy a long and restorative getaway.
A dynamic and meditative yoga practice through the sacred map of chakras, our wheel centers of energy, will charge you and be an essential part of your vacation and transformative journey towards well-being, love and infinity. We will explore the physical/psychological/spiritual aspects of the chakra system from the bottom of the spine all the way up to the top of the head, moving from our survival instincts -1st chakra- through emotions and sexuality -2nd-, personal power -3rd-, love -4th-, self-expression -5th-, intuition -6th-, up to spiritual wisdom -7th-. It is an exciting metaphysical doorway to better understanding of your authentic self and the manifestation of your dreams.

In addition to the yoga sessions, we will dive into the uncontaminated beauty of Tuscania, an ancient Etruscan and Medieval town where the historic ruins and pure nature are still incredibly untouched and intact. We will stroll through its alleys and among its characteristic houses nestled on the hills, and hike along breathtaking landscapes to visit the San Pietro and Santa Maria Maggiore cathedrals, which are masterpieces of Romanesque architecture.
Finally, we will treat ourselves with a precious gift from mother earth: we will soak our souls in the natural, mineral hot springs of a fabulous spa to release the winter stiffness and soften our skin and heart. Your bodies and spirits will be deeply rejuvenated!

The yoga practice will be conducted in a cozy and well-equipped yoga studio. Sessions of Vinyasa -active flow of poses coordinated with breathing-, Restorative Yoga -passive supported relaxation in specific postures- and gentle Kundalini Meditation -guided meditation as taught by Yogi Bajan- will be spread over the weekend, and intertwined with other activities -the meditative hike and thermal bath-. The 3 yoga sessions will consist of an intelligent sequence of vinyasa and kriyas, breath work, kirtan music, healing sounds, and aromatherapy to renew and harmonize your physical and subtle body. The essential oils will promote the healing of your emotions thanks to the therapeutic and blissful effects of their aromas.

Specially chosen local trattorie, restaurants and hotels are going to make your experience even more special. The flavors in the Tuscia area are influenced by Roman and Tuscan cousins, and typical dishes are infused with ingredients sourced from the nearby hills. We will definitely have a healthy sampling of homemade pasta "lombrichelli" and taste genuine biological food.

Let's share and enjoy together lots of great yoga, stories, activities, and have an unforgettable time in one of the most delightful corners of Italy.
Language and requirements: the main language spoken during the event and the yoga practices will be English. A previous basic yoga experience is required.

Dates and venue: 16-17-18 March 2018 in Tuscania (VT), Lazio Region. Starts on Friday 16th from 6:30 PM, and ends on Sunday 18th after lunch. Once you make your reservation, I will send you suggestions for the best way to reach the location of the retreat, and I will connect you with other participants in case you want to share a car.

Prices: € 375.00 per person. The package includes: accommodation for 2 nights, 4 meals, 1 half-day access to a thermal spa, 3 yoga and meditation sessions in a yoga studio, entrance to the cathedrals. The package does not include: transportation costs to/from Tuscania and alcohol.

Yoga Teacher: Alessandra Manieri is an experienced yoga teacher, currently teaching in the most renewed yoga studios in Rome, Italy. She got her teacher training certification in New York City, where she lived until 2016. Alessandra is a passionate sport journalist and event organizer, and a profound connoisseur of the Italian heritage with her BA in Art History. Find more about her bio and mission on www.yogabridgeblog.com.

Info & Reservations: Call Alessandra @+39.329.166.7802 or write an email to yogabridgeblog@gmail.com to receive further details about the schedule and prices, and book your spot! Reservations are closing 10 days before the event.

Link: http://www.yogabridgeblog.com/retreats
Mail: yogabridgeblog@gmail.com